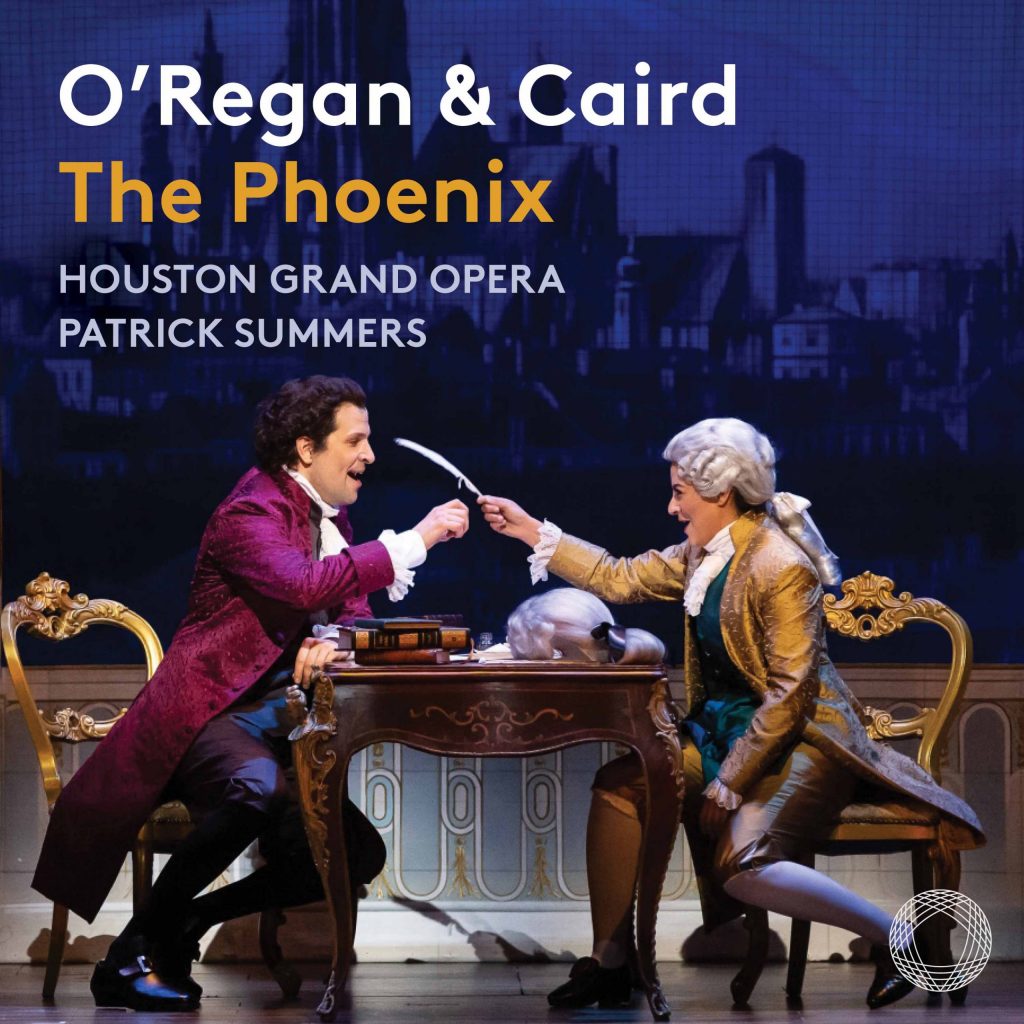 Rarely have we heard such a dramaturgically ambitious work as Tarik O'Regan's Phoenix, premiered in 2019 at the Houston Grand Opera on a libretto by John Caird. In fact, it is probably the most ambitious work we have ever heard, and it has no equivalent, the project being both titanic and delicate.
The Phoenix is Lorenzo Da Ponte : one of the greatest librettists in the history of opera, but also a man with an absolutely incredible destiny. Poet, abbot and professor in Treviso (near Venice, Italy); librettist in Vienna and London ; businessman in Philadelphia and New York, then professor of Italian language and literature at Columbia College, Da Ponte recounts his eighty-nine years of adventures in his memoirs where one meets the great names of literature, music and politics of his time. John Caird therefore had plenty of material to write a libretto in homage to his illustrious predecessor, drawing from the many episodes of this incredible life, each of which could have easily filled an entire opera. But after all, why choose one episode ? Why not tell the whole of Da Ponte's life, and even incorporate elements of fiction ? This is the completely crazy challenge taken up by John Caird and Tarik O'Regan thanks to an extremely complex, but brilliantly constructed project.
The curtain opens on the backstage of Manhattan's Park Theatre in 1832, just before the premiere of The Phoenix, an autobiographical opera written by Da Ponte and composed by his son Enzo – all this, of course, is fiction. Maria Malibran and a tenor, Patrick Kelly (based on tenor Michael Kelly) prepare to enter the stage, as do Giulietta and Faustina, the librettist's nieces (characters based on his niece and half-sister). So we are going to see "an opera within the opera", where each one plays several characters : Enzo will be Da Ponte as a young man before taking on his own role ; Maria Malibran will be Mozart and Nancy Da Ponte ; Patrick Kelly will play the bishop of Ceneda, Casanova, Joseph II, Taylor and Clement Moore, while Giulietta and Faustina play various minor roles – mistresses or singers. Such is John Caird's invented setting.
Then begins the opera in the opera, where fourteen scenes from the life of Da Ponte are depicted. Fourteen scenes from Ceneda in 1762 to the Manhattan bookstore in 1832, where one travels through countries and eras, where one discovers Da Ponte in his private life – through intimate moments such as his marriage, the birth of his children, bereavements, or his reflections on his identity and belonging to a country – but also in his professional life – when presenting his ideas about opera, his many changes of profession as well. When you think about it, it is also the portrait of an era that indirectly appears through the travels, encounters and various protagonists encountered during his peregrinations ; it is therefore a truly exceptional work by John Caird in terms of the construction and content of the plot, made all the more complex by the intermingling of several languages (the libretto being mostly in Italian and English, with some Latin, French and German). Keeping the booklet in hand is therefore essential in order to follow the action, distinguish the characters and understand the text, unless you are fluent in all these languages ; otherwise the listener will necessarily be lost in the midst of the constant back and forth between the opera in the opera, stage and backstage area, or the characters' costume changes.
In short, it is a work placed entirely under the regime of duality and mise en abyme that is presented to us here : an opera dedicated to a librettist, an opera within an opera, singers performing singers, singing that can represent ordinary spech or a proper aria, a permanent going back and forth between fiction and reality within a fictional work, but also a duplication of Da Ponte and Enzo on stage ; it is both of immense complexity and absolute limpidity once it has passed through the prism of music and action. It is a real tour de force that has been achieved, because the difficulties we encounter in describing the work clearly and analyzing it in writing actually disappear completely when we listen to it. Rather than getting lost in more or less limpid explanations that may have discouraged the reader of this article, we should have simply said from the outset : listen to The Phoenix, you won't be disappointed.
On this astonishing libretto, Tarik O'Regan composes a very luminous, rhythmic music, where the moving or tragic pages are rendered with a beautiful simplicity of means : no orchestral mass or heart-rending melodies, quite the opposite : the stronger the emotion, the more one pulls towards a cappella, as if the orchestra were diluting itself. Tarik O'Regan seldom resorts to gust of melody but seems to prefer adding musical colours – provided by horns, harp or piano – over the orchestral flow. The celesta is also very present in the score, reflecting this pointillistic aesthetic, if we are allowed this pictorial metaphor, and also its very luminous, even aerial character, which builds an extremely homogeneous work. It must be said that the score develops without the slightest pause. The music is as dense as the action, in perpetual evolution, which is pleasing from a dramaturgical point of view – but we could have appreciated more purely musical moments as well.
The Phoenix is, as we have seen, a 'meta-operatic' work in terms of its libretto ; but it is also 'meta-operatic' in the score, which is a reflection on opera and a tribute to the genre. A reflection when Da Ponte and Joseph II make fun of the opera seria with great figurative reinforcements, when two sopranos compete on high notes and fight over who will have the most virtuoso score, or when Tarik O'Regan proposes ensembles where all the characters speak at the same time until they are incomprehensible. But homage is also paid to the genre when he uses the harpsichord or quotes the finals of Le nozze di Figaro and Don Giovanni in the middle of his score, and quite simply in his choice to retain the forms of the recitative, the aria, the ensemble and the chorus, even if he uses more flexible forms.
The composer was therefore able to find the right music for the libretto without falling into pastiche, but by creating bridges between eras and by assuming the gap between contemporary music and an opera in costume, without shocking modern ears thanks to the spontaneity and naturalness of the singing.
The score is furthermore served by two first-class performers, who are in no need of an introduction : Thomas Hampson plays Lorenzo Da Ponte, while Luca Pisaroni adopts the costume of his son Enzo. Mozartians unanimously recognized, having both sung in Le nozze di Figaro, Don Giovanni and Cosi fan tutte (and sometimes together in the same production!), they were the perfect choice for these roles – and if we want to continue the mise en abyme we will notice that one is, in real life, the father-in-law of the other. Thomas Hampson shows his well-known dramatic efficiency, oscillating between the poet's overflowing energy and his emotion at seeing his life represented on stage ; Luca Pisaroni plays both Da Ponte as a young man and Enzo, with a timbre as superb as ever, and it is hoped that a DVD will one day be available to see the two singers in the staging proposed at the Houston Grand Opera by John Caird.
The cast is completed by Rihab Chaieb, Maria Malibran with a dark, full-bodied voice, and Chad Shelton, Patrick Kelly with a voice that is on the contrary luminous and has all the humour required by the libretto. Finally, Lauren Snouffer and Elizabeth Sutphen are quite convincing as Giuditta and Faustina, especially in their roles as London divas harassing Da Ponte for tunes that are more flattering for their vocal means ; and if they play a priori secondary roles for the action, they certainly don't go unnoticed. The cast is, it can be said, flawless.
As for the Houston Grand Opera Orchestra, under the baton of Patrick Summers, it is lively and colorful ; it could have been more present at times, but it perfectly sustains the singers and the action, especially in the most rhythmic pages where the percussion is impeccable, and we will particularly note the performance of the horns (and even the brass in general), which give such a special character to this score.
Listening to this album – available only in digital format – we hope that The Phoenix will soon be back on stage, or at least that we will be given a foretaste of it one day, with a video recording ; for this opera is of formidable dramatic intelligence, as well as being accessible to ears unfamiliar with contemporary music, and deserves to be widely known – just like the life of Da Ponte. We strongly recommend rereading his Memoirs while listening to The Phoenix.